This is the eleventh episode of the Ask Different Podcast. Your hosts are, as always, Kyle Cronin, Jason Salaz, Nathan Greenstein.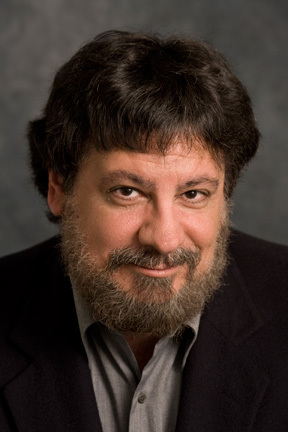 We have a special guest today: Long time Apple user, speaker, and author Tom Negrino!
Tom was introduced to Macs by accident. He got a Macintosh after seeing the 1984 commercial, and has been using them ever since. He tells the story of how Macs have factored into his life over the years.
Tom has been a professional writer for more than 20 years. He tells us how he accidentally started writing, and how that's lead him to where he is today, with more than 40 books published.
Out of us four, Tom is the only one who has been using Macs since before OS X. When asked what he misses from those days, he tells us that "OS X is so much better than the original system that there's really no comparison." He shares some of the things that have been drastically improved (or added altogether) with OS X.
That's not to say, however, that that era didn't have its share of great hardware. Tom's SE/30 remained in use from 1987 to 2002! Amazing for its time, that machine had an expansion slot (for a color monitor) in addition to a 9" grayscale screen. This leads us to discuss Apple's masterful use of clean, monochrome displays.
Tom explains how he initially learned of Ask Different during MacWorld Expo 2011. Tom had only recently learned of Ask Different after his wife, Dori, had a business meeting at MacWorld with Stack Exchange's own Jeff Atwood back while she was a Moderator Pro Tempore.
We touch on Tom's opinions of the Stack Exchange engine and it's various sites, which draws the inevitable comparison to other networks such as Yahoo! Answers, and just how dramatically different the content and demeanor of the sites are. Kyle explains his theory about this difference in intent by referencing the broken windows theory, explaining that people answer with shock value on Yahoo! Answers, but answer with quality on Stack Exchange, due to the quality of both questions and answers already on the site.
Tom and Dori both recently attended WorldCon 2011 / Renovation both personally and also to help promote Stack Exchange and their Science Fiction and Fantasy site and Writers StackExchange as well. We talk about the attendee experience, such as one of Tom's favorite costumes, specific qualities present in Las Vegas conventions based out of a hotel and casino, and some of Tom's experience speaking on Renovation panels. If you're interested in science fiction, Tom recommends the podcast The Incomparable.
This turns us to talking about the tech, both hardware and software, used by writers not only for the literal act of writing the content, but also the choice of software and operating system used for various application screenshots. Tom mentions that he could not live, professionally speaking, without Dragon Dictate and OmniOutliner.
We discuss the state of OS X with regard to the numerous methods of installing and updating your third-party software. What works, what doesn't, and what gets in your way. With particular reference to the completely trivial upgrade methods employed by Panic for their software such as Coda, but also the completely different flow used by apps listed in the Mac App Store.
Currently, Tom has a single computer upgraded to Lion, and another one still remaining on Snow Leopard. We talk about early adoption habits past and preset, beyond OS updates, also covering the release of the original iPod, the more recent release of each iPhone, and the iPad.
We contrast the decade-long evolution of the original iPod to the current generation iOS devices, to the drastic changes that Lion suddenly brought us with regard to Natural/Momentum Scrolling, Reverse Scrolling, Hidden Scrollbars, the revamps to spaces found in Mission Control, and more. Tom has many of the same opinions that Chris Breen detailed in an opinion piece he wrote for MacWorld.
And finally, we talk about the biggest headline of the week, the resignation of Steve Jobs as CEO. We explain the fundamental changes this brought, and the details that speak to the amount of trust placed in the new CEO Tim Cook. We talk about much of the coverage that we've seen since that announcement on Wednesday, including Tom's suggested read; Glenn Fleishman's article on how Apple has personally affected his life, and the lives of so many others.
Tom Negrino can be found on Twitter, Facebook, on his personal site negrino.com, and of course on Ask Different. His latest book is JavaScript: Visual QuickStart Guide, 8th Edition.
This episode was recorded on August 27, 2011. You can subscribe to this podcast via RSS or iTunes. We'd love to hear from you! Please feel free to leave a comment on this post or e-mail us at podcast@askdifferent.net.
This is the tenth episode of the Ask Different Podcast. Your hosts this week are Kyle Cronin, Jason Salaz, and Nathan Greenstein.
We begin with some Ask Different news:

On August 17, we celebrated Ask Different's first birthday! On that date in 2010, Ask Different entered private beta. Since then we've seen tremendous growth, exceeding all our expectations. We'd like to give a big thanks to all of our supporters, users, and everyone else who's helped make the site what it is. We've celebrated this and have more details in the the birthday meta post!
This leads us to a discussion of moderating Ask Different. We talk about how the Stack Exchange engine makes it easy to keep a site clean while being friendly towards users. We'd like to thank all of our users who flag posts as well as encourage everyone to click flag if they see something in need of attention. We couldn't do it without you!
We also briefly discuss the concept of Community Wiki posts, and the recent movement to get rid of CW-style posts across Stack Exchange. While we sympathize with this point of view, we feel that there are certain types of expression that are very valuable to the community even though they don't exactly fit the Q&A format. We cite as an example our Question of the Week from last week; "What tiny thing in Lion makes you smile or has caught you off-guard?". We discuss why we think this is a worthwhile post to have on our site, but we also acknowledge the times when Community Wiki hasn't worked. Please be aware that Community Wiki questions have their place, but their place is sparsely present.
We bring you a public service announcement: Ask Different will be participating in a beta testing service! Stack Exchange will be running a service that matches developers from the community with testers from the community, including Ask Different users. All the details and forms to fill out to sign up are on Abby's Meta Post.

Moving on to tech news, this has been an exciting week! For starters, Google is going to acquire Motorola Mobility. We predict the implications of the sole developer of Android also being a major handset manufacturer. Will this move improve Google's products and worsen their competitors'? We're betting that some device manufacturers are seriously considering their other options in the mobile OS department.
The other major event of the week comes from HP. They've announced what amounts to a radical shift in their focus as a company. For one, the TouchPad and webOS are both being discontinued. While HP claims they will continue to allow apps to be added to the webOS app store, there will be no more software updates and no new hardware using the OS.
Additionally, HP, the single largest computer manufacturer in the world, announced the possibility of spinning off its consumer computing business. We discuss the possibilities ahead for their new direction, and how this could change the consumer computing landscape.
Our main topic for this episode is Owning Your Data. With the proliferation of server-side content services (e.g. Amazon Cloud Drive, Google Music, Delicious Bookmarks), we consider it unsafe to treat these services as sole-source backup solutions. We cite examples of disaster due to loss of account access, the service closing its doors, or suffering its own disaster.
Our Question of the Week is "Why doesn't the red dot shut down the program?", asked by Andrew Warner on August 10.

We discuss the reasoning, implementation, and comparison of this feature that has existed for all of Mac OS X's life.

Our Apps of the Week revolve around music!

Kyle picks AudioGalaxy, a utility that runs on your computer and let's you stream music stored on your computer to any other computer or Smart Phone connected to the internet. AudioGalaxy is currently free, including it's iOS client.
Jason picks iScrobble, a utility used to submit your music listening history from your iOS device to Last.fm. iScrobble has a free version, called "iScrobble Pick and Mix" (ads and limited functionality, upgradable via in-app purchases), or $6 for "iScrobble Premium" with all features up-front and no ads.
Nathan picks I Love Stars, a menu bar app used save time when you want to rate the song you're currently listening to, without having to open the iTunes interface. I Love Stars is available for $1 on the Mac App Store.
This episode was recorded on Saturday, August 21st. You can subscribe to this podcast via 
RSS 
or 
iTunes
. We welcome any feedback, so please leave a comment on this post or e-mail us at 
podcast@askdifferent.net
.
This is the ninth episode of the Ask Different Podcast. Your hosts this week are Kyle Cronin, Jason Salaz, and Nathan Greenstein.
We're back! Our (unplanned) summer sabbatical has ended, and we begin again. The length and frequency of our previous shows was too exhausting, so we're cutting back a bit. Our shows will not occur every single week, as we've chosen to focus heavily on single subjects rather than attempt to cover the every-continuous stream of Apple and related news. We are currently planning on bi-weekly shows, with exceptions for significant events and product releases.
We begin by sharing our experiences with the fast-growing Google+. These three early adopters' are generally impressed by the circle management features and the ability to mute posts from people in your circles, but the service has its share of rough edges including a less-than-stellar native iOS client, and post ordering that doesn't always keep older posts below newer ones.
Mac OS X 10.7 Lion is finally here, and sure enough we've dedicated the lion's share of the show to discussing it! We share our thoughts and experiences with the changes, big and small, to the most recent version of Mac OS X.

We discuss transitioning to Lion's auto-hiding scroll bars and reversed scrolling direction, and debate what configurations are appropriate for various types of input devices. Everyone's made the switch except Nathan, who's promised to give the changes another chance.
We love gestures! Kyle and Jason's high praise for Lion's gesture integration leaves Nathan wanting a multi-touch input device.
Lion's new native full-screen capabilities are useful and slick, but they have at least one serious limitation. We discuss when full-screen is useful and when it isn't, especially when used in combination with the new Mission Control. Kyle also put together a short video demonstrating how trivial it is to have multiple operating systems set up, and switch seamlessly between their desktop environments leveraging multiple spaces via Mission Control, and full screen modes.
None of us have tried out Lion Server. Jason lays out the various reasons he's reluctant to do so. We briefly touch on the notable changes generally known, such as the removal of MySQL invariably due to legal reasons with Oracle, and the continual lack of ZFS, originally slated to appear on Snow Leopard Server. On this and other topics, Kyle highly recommends John Siracusa's review of Lion on Ars Technica, with particular reference to the "What's wrong with HFS+" section, and Episode #27 of Hypercritical for details on ZFS' numerous benefits among many other topics.
Lion's Versions feature is promising, but has its share of limitations. We compare it to other revision tracking technologies and look at its key features and potential pitfalls. Hopefully, we'll soon see more apps start to integrate Versions in exciting and original ways.
Lion brings a complete overhaul to the way Mac OS X is installed and restored. We share our feelings on Apple's decision to move everything away from restore DVDs to internet downloads and a recovery partition.

Our question of the week is What tiny thing in Lion makes you smile or has caught you off-guard?, asked July 20 by bmike.

Each of us pick our favorite tips that have originated on this question, and references to it from Reddit and Hacker News.
In addition to these sources of traffic coming to our corner of the Stack Exchange network, Ask Different sponsored Daring Fireball!

In lieu of just one single app, we talk about some of our favorite apps that have been released or updated after Lion's release.

Kyle highlights BBEdit 10 as a dramatic improvement to a fantastic multi-purpose editor, which is currently on sale for $39.99 ($10-off for the next two months!).
Jason sings praises for a post-only Twitter client known as Wren, and talks about how it takes advantage of many Lion-specific features.

We wrap up our discussion talking about Spotify and it's integration into our respective music and media listening habits.
This episode was recorded on Wednesday, August 3rd. You can subscribe to this podcast via
RSS
or
iTunes
. If you have any feedback or questions you'd like for us to answer on air, leave a comment on this post or e-mail us at
podcast@askdifferent.net
.